Sambhar (II)
Sambhar is a part of every meal in south Indian families, whether it is a breakfast or lunch/ dinner. It is served with urad dal vada, idli, dosa, upma, rice etc.
The recipe I have given here is one of the varieties of sambhar, using coconut, small onions and other fresh spices. Easy to make and delicious in taste. Hope all of you will enjoy this sambhar.
Ingredients:

2 small lemon sized balls tamarind,
1/2 cup arhar dal,
10-12 leaves curry leaves,washed and pat dried,
1 cup Small onions (also called as Sambhar onions or Madras onions); peeled and washed,
5-6 large cups of water,
1/2 tsp asafoetida (heeng),
1 tsp turmeric powder (haldi),
Freshly chopped coriander leaves to garnish.
For sambhar masala –
1/2 cup freshly grated coconut,
2 tbsp whole coriander seeds,
1 tbsp chana dal,
2 tbsp black pepper or 3-4 red chillies (or as per taste),
2 tsp methi seeds,
1 tbsp olive oil or any refined oil.
For tempering –
1 tsp mustard seeds (rai),
1 tsp urad dal,
1 tbsp olive oil or any refined oil,
1/4 tsp asafoetida (heeng).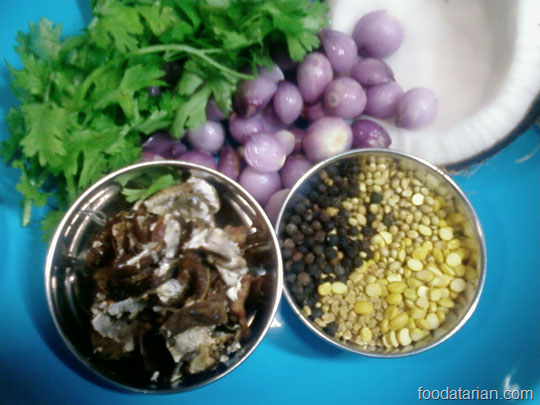 Method:
Soak the tamarind in around 4 cups of warm water, for around 10-15 minutes. To get the pulp (of around 3-4 cups) out of it mash the tamarind in the water it is soaking in and strain in a kadhai or deep pan. Add small onions, turmeric powder, salt, curry leaves, asafoetida and bring it to boil. This mixture must be boiled until the onions become tender and the tamarind doesn't smell raw. At the end of this process the quantity of the tamarind mixture should be reduced to half of the original quantity.
To prepare the sambhar masala, in a small pan add a tbsp of oil. To that add coriander seeds, methi seeds, chana dal, black pepper and roast it on low flame until fragrant (around 2-3 minutes). Remove from flame and grind it along with grated coconut into a fine paste.
Add this sambhar masala to the boiled tamarind mixture, add more water if required. To it add the boiled and mashed arhar dal. Stir well.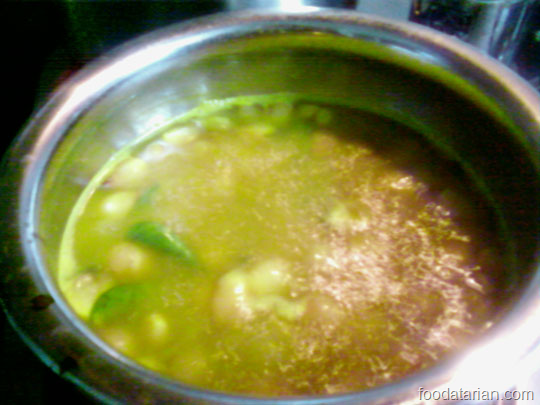 Heat a small pan/saucepan on another burner and add some oil to it. When oil is hot, add mustard seeds, urad dal and heeng. When the seeds splutter, pour this tadka over the sambhar. Quickly cover it with a lid, so that the aroma and flavour of the tadka submerge into the sambhar. Garnish with fresh coriander leaves and serve with piping hot rice.
TIPS:
1. Use tamarind that is more brown in color as it gives a nice color to the sambhar.
2. It is important to add the ground masala only once the tamarind pulp looses its raw smell (cooked thoroughly).
3. In the above recipe, you may also use red pumpkin, potatoes, okra, drumsticks, brinjals to prepare sambhars of different flavour.
4. Methi seeds gives a good aroma and flavour to the sambhar and are good for health. But excess use may make it bitter in taste, so omit them if you don't like.
(Visited 4 times, 1 visits today)