Sevaiyan or Sevai Kheer or Semiya
My mom makes lovely sevai kheer, which I have been gorging on since my childhood. My mom-in-law also prepares delicious sevai kheer. The method is almost same with some minute difference. Today I thought of giving it a try and since none of them were actually present to guide me, I prepared Sevai Kheer with a mixture of both the recipes and it turned out really good. So I dedicate this recipe to both of them.
The preparation I made was not exactly kheer, you can called it just sevaiyan, which is bit dry than kheer. But you can increase the quantity of milk, if you like your kheer to be thinner.
Ingredients:
1 1/2 cups roasted or normal sevaiyan,
1 litre milk for dry sevaiyan and 1 1/2 litres milk for thinner sevai kheer,
1/2 cup sugar,
1/2 – 3/4 cup sweetened condensed milk,
3/4 tsp ground cardamom,
1/2 cup mixed dry fruits like cashew nuts, sliced almonds and raisins,
1/2 cup ghee or clarified butter,
Water as required.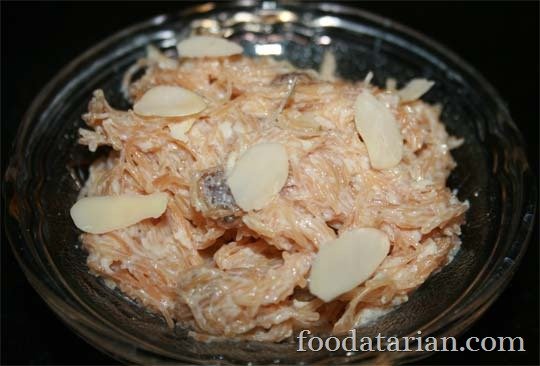 Method:
Place milk on the stove and bring to boil. Then let it simmer until it reduces to almost 3/4th its quantity. Stir occasionally. Add sugar and when it dissolves remove from flame.
Then in a non-stick kadhai/pot, melt ghee on low flame. Add cashew nuts and roast them for 1-2 minutes until they start changing their color. Drain and transfer to a bowl. Similarly roast sliced almonds and raisins, one at a time. Drain and transfer to the same bowl. Then add sevaiyan to it and roast them stirring continuously. The sevaiyan should change their color to a lighter shade of brown if using roasted ones and to a lighter shade of pink. Take care that you do not burn sevaiyan. If you are using roasted sevaiyan, then you can roast them for 2-3 minutes and for normal sevaiyan, roast for around 5-6 minutes.
Then add little water to the sevaiyan, only to cover them up. Cover with a lid and let them cook for 1-2 minutes.
Uncover and mix with a spoon. You will find the sevaiyan are soft and separate from each other. Now add the reduced milk and give it a nice stir.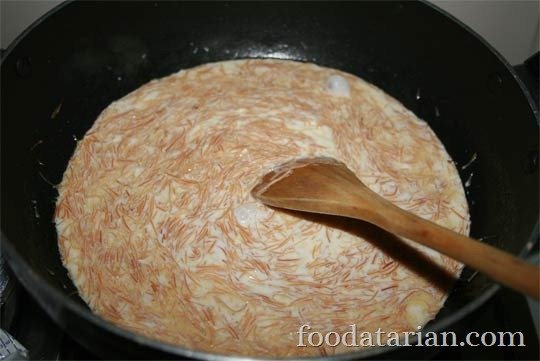 Add roasted dry fruits, ground cardamom and condensed milk.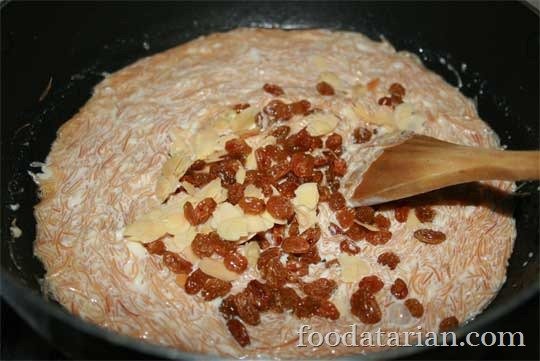 Bring the mixture to boil. Serve hot or chilled.
TIP:
You need not reduce milk before adding to sevai, but adding reduced/thickened milk gives the kheer a nice creamy taste and texture. To thin out your kheer use 1 1/2 litres of milk.
(Visited 37 times, 1 visits today)