Shrimp Tempura
Ingredients:
500gms shrimps or prawns, shelled, deveined,
For the marinade-
1 tsp garlic paste,
1 tsp chilli sauce,
1 tsp soy sauce,
1 tsp Worcestershire sauce,
1 tsp vinegar,
1/4 tsp white pepper,
1/4 tsp salt or as per taste.
For the batter-
1 cup all-purpose flour,
1 egg,
Salt to taste,
1/4 tsp baking powder,
1 cup ice cold water.
For the dip-
1/2 cup soy sauce,
2 tbsp rice wine vinegar,
2 scallions; sliced,
1 tbsp ginger, grated
Other-
Vegetable oil.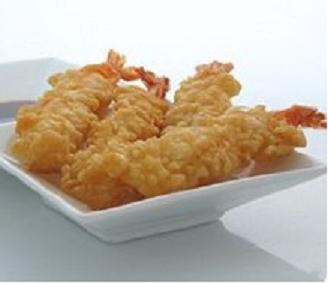 Method:
Beat the egg in a bowl and add cold water to it, whisk well. Fold it flour and keep whisking only till the batter is smooth. Do not over whisk.
Mix together all the other ingredients and dip the shrimps into it, let them marinate for few hours, overnight for best results.
Heat vegetable oil for deep frying. Turn the flame to medium, dip each shrimp into the batter and drop into the hot oil. Fry all the shrimps in batches till they turn golden brown and crisp.
Drain on paper towels. Serve with dipping sauce.
Dipping sauce-
Combine all ingredients for the dipping sauce in bowl and stir well.
(Visited 1 times, 1 visits today)