Spaghetti Bolognese
This is a traditional and most favorite Italian dish. The original recipe is made of beef, pork, bacon or lamb. This recipe asks to use lamb or chicken mince, but you can use any meat you prefer.
Ingredients:
1 packet Whole wheat Spaghetti or
1 tbsp Olive oil,
Dash of salt,
Water.
For the sauce-
250gms lamb or chicken mince; cooked,
1 large onion; chopped,
1 carrot; finely diced,
1 stalk celery; finely diced,
1/2 cup chopped tomatoes,
1 cup tomato puree,
2 galic pods; crushed,
Red chilli flakes or paprika as per taste,
Freshly gound pepper to taste,
1 tsp oregano,
1/2 cup Olive oil,
2 tbsp red wine,
Dash of salt,
1 tbsp freshly chopped basil,
1 tbsp finely chopped parsley.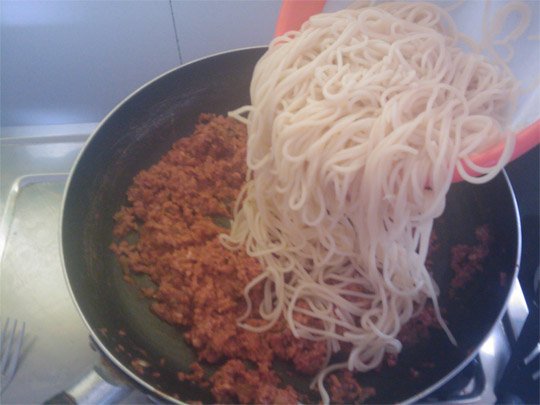 Method:
Heat olive oil in a pan, add the onion and saute them for 3-4 minutes. Add some red chilli flakes, pepper, oregano and chopped tomatoes. Cook till tomatoes are soft. Then add tomato puree till the sauce thickens. Add mince mix well and cook for 5 minutes. Add basil in the end.
Boil water in a saucepan, add spaghetti, olive oil and a dash of salt. Boil for around 10 minutes or as per instructions on the packet, till its al dente. Drain when done. Place into the serving bowl, pour the sauce over it. Garnish with chopped parsley or cilantro.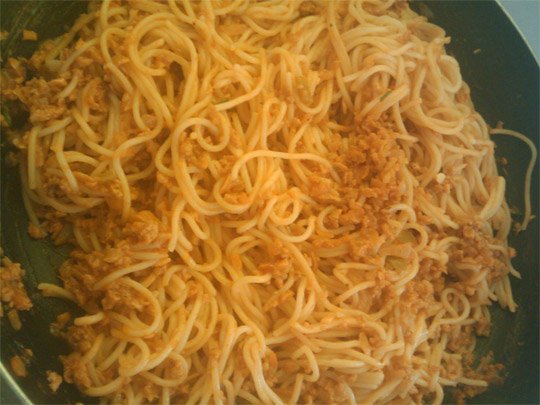 (Visited 4 times, 1 visits today)