Spinach and Ricotta Cheese Sauce
Ingredients: (Serves 2)
250gms fresh spinach leaves; chopped,
60gms Ricotta cheese,
1 tbsp finely chopped onion,
1 garlic clove; minced,
1/4 tsp fresh thyme; chopped (dry thyme leaves would also do),
A pinch of ground nutmeg,
1 tsp toasted pine nuts,
Salt and pepper to taste,
Olive oil.
Method:
Heat oil in a pan and saute onion until soft. Add garlic and saute for a minute. Now add spinach leaves and cook covered on low-medium flame, until leaves have wilted. They will release some liquid, you can opt to drain it and use it later to thin the sauce or cook the juices along with the sauce until they reduce and thicken. Then add Ricotta cheese and mix continuously until uniform and smooth. Season with thyme, nutmeg, salt and pepper. Remove from flame. Sprinkle some toasted pine nuts and serve on your favorite pasta.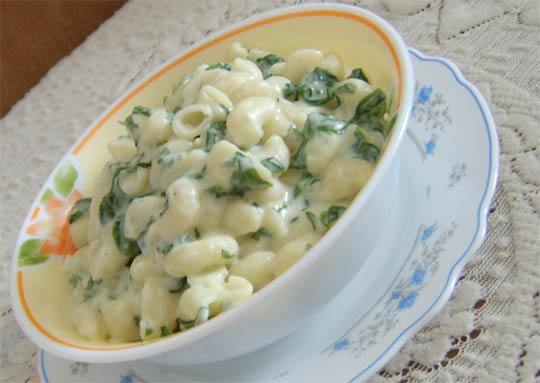 (Visited 6 times, 1 visits today)