Sprout Pancakes
Ingredients:
1 cup sprouts (moong bean),
A handful of fresh coriander leaves; chopped,
1-2 green chillies (or as per taste,
6-7 cloves of garlic,
1-2 inch piece of ginger,
1/2 cup of freshly grated coconut,
Salt to taste,
1/2 tsp of soda bicarbonate (optional)
Water for grinding,
Oil for frying.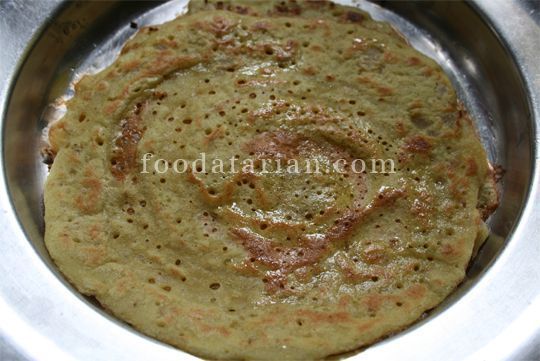 Method:
In a mixer grinder, combine sprouts, ginger, garlic, chillies, few coriander leaves (reserve more than half for later use) salt and water (as required) and grind into smooth paste.
Transfer the batter into a bowl. The consistency of this batter should be similar to the pancake batter or dosa batter. Add soda bicarbonate at this stage. Give it a nice stir.
Heat a griddle on low flame and smear it with some oil. Scoop out a spoonful of batter and drop it into the center of the griddle. Using the same spoon immediately spread the batter into circular motions (only in one direction) to prepare a thin pancake. Make sure the batter is evenly spread. This process is similar to that of dosa and you may need some practice to get it right, if you are not used to make dosas.
Sprinkle some chopped coriander leaves and grated coconut on top. Drizzle some oil from the sides of the pancake.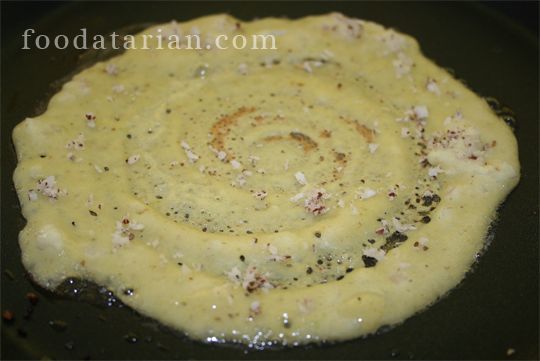 Cook from this side until light brown in color. Then drizzle some oil on the top of the pancake and flip it over using a spatula. Cook for 2-3 minutes and serve hot with chutney or tomato ketchup.
TIPS:
You can add some rice and/or urad dal (split black gram) to this batter too. Soak rice and urad dal for atleast 5-6 hours before you add it along with the other ingredients while grinding.
(Visited 18 times, 1 visits today)