Steamed Chicken served with mushrooms
Ingredients:
10 medium sized fresh button mushrooms,
500gms chicken, cut into 1″ pieces,
Salt to taste,
Pepper, to taste,
1 tbsp soy sauce,
2 tsp Chinese rice wine or dry sherry,
1 tsp sugar,
1 tbsp cornstarch(cornflour),
1 tsp chopped garlic,
1 tsp shredded ginger,
1 spring onion, chopped,
1 tsp sesame oil,
Water.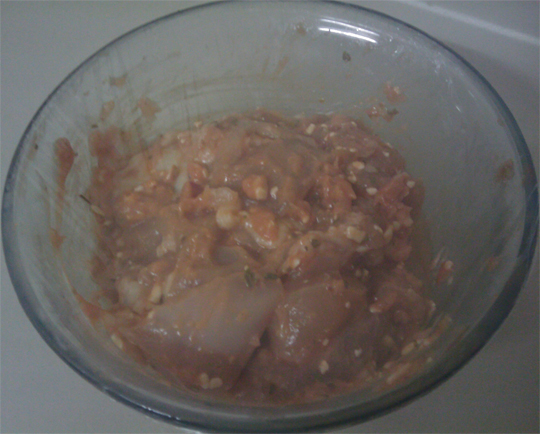 Method:
Clean mushrooms under cold running water. Thinly slice the mushrooms. Wash clean the chicken pieces.
In a heatproof bowl, marinate chicken with soy sauce, rice wine or sherry, sesame oil, sugar, salt and pepper. Dissolve cornstarch in some water and add to the chicken. Allow to marinate for an hour.
In a deep pan, boil 4 cups(or as required) of water for steaming. You can also use bamboo steamer instead.
Then place the bowl in it for steaming for around 20 minutes.
Meanwhile heat some sesame oil in a pan, saute chopped garlic for a minute and fry the sliced mushrooms in it for 3-4 minutes.When chicken is done, transfer it to the serving dish, surrond it with the fried mushrooms, top the chicken with shredded ginger and spring onion. Serve with steamed rice.
TIP:
1. Use Chinese dried mushrooms instead of button mushrooms for the original oriental flavour. You can soak the dried mushrooms in warm water until they have softened. Drain and squeeze out the excess water.
2. Best recipe for people who want to eat chicken and avoid oil. For such recipe use very little sesame oil and avoid frying the mushrooms. You can cook mushrooms in the steam along with the chicken.
(Visited 5 times, 1 visits today)