Stir Fried Broccoli and Mushrooms
A simple recipe of stir fried vegetables with key ingredients as broccoli and shiitake mushrooms. Easy to prepare and delicious to eat with noodles or brown rice.
Ingredients:
1 small head broccoli; cut into small florets,
200 gms (7 ounces) shitake mushrooms or any other variety of your choice, cut each into 4 pieces,
2 small carrots; diced,
2 sprigs of green onions; chopped,
1 tsp minced garlic,
1 tbsp dark soy sauce,
1-2 tbsp green chilli sauce,
1 tsp brown sugar,
Salt and Cayenne pepper to taste,
Sesame or olive oil for frying.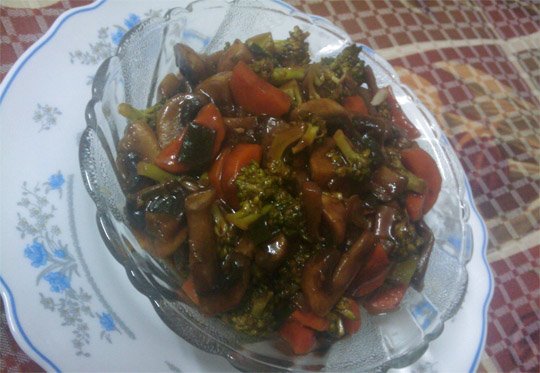 Method:
Blanch the broccoli. Heat little oil in a wok and saute the mushrooms till all the juice dries up. Season them with some salt and pepper and then transfer to a bowl/dish and place the same wok on flame. Add some more oil and add garlic to it. Fry for a minute and then add green onions and cook for a minute. Then add carrots, cover and cook for 3-4 minutes. Then stir in the sauces, sugar, salt and pepper. Now add blanched broccoli, mushrooms and stir well.
Serving Suggestion:
Serve this recipe with garlic noodles or brown rice.
(Visited 6 times, 1 visits today)