Stir Fried Vegetables in Hot Garlic and Tomato Sauce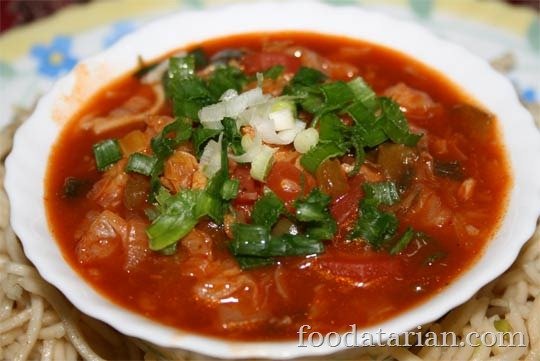 I prepared this for dinner last night. It is not a pure Oriental recipe, but a modified one. Lots of fresh vegetables in a thick tangy, garlicky and spicy sauce served with Garlic Noodles or Fried Rice. I bet you'll love it, so try it out today!
Ingredients: (Serves 4-5)
1 cup scallions or spring onions with the greens,
1 cup broccoli/cauliflower florets; parboiled ,
1 cup mushrooms; sliced,
1 cup shredded cabbage,
1 cup Bell Peppers (green, red and/or yellow); deseeded and diced,
1 cup baby corn; parboiled and diced,
1 cup carrots; sliced or diced,
15 cloves of garlic; minced,
1/2 inch fresh galangal, peeled and cut crosswise into 1/4-inch slices,
2-3 dry red chillies; broken into pieces,
1 tbsp dark soy sauce,
2 tbsp chilli sauce/paste,
1 tbsp mushroom oyster sauce,
150-200 grams readymade tomato puree,
2 tbsp corn flour mixed with some water to form a paste,
1 tbsp white wine vinegar,
1/2 tsp sugar,
Salt, pepper and dry chilli flakes to taste,
Sesame oil or Olive oil for roasting.
Water as required.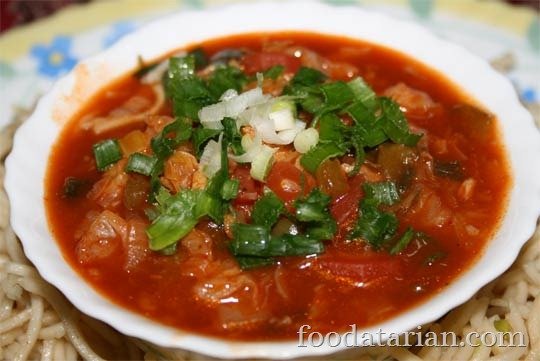 Method:
Heat oil in a wok on medium flame. Add minced garlic, sliced galangal and red chillies and sauté until garlic is fragrant and lightly browned. Then add carrots, peppers, baby corn and broccoli/cauliflower. Stir fry them for few minutes on medium-high flame, stirring occasionally. Then add mushrooms, cabbage and stir fry. In the end add scallions, season with some salt, pepper and chilli flakes and cook for a minute.
Add tomato puree, stir, cover and cook for 2-3 minutes. In a small bowl, combine soy sauce, chilli sauce, mushroom oyster sauce, vinegar, sugar and mix until sugar dissolved. Then stir in the sauce mixture into the vegetables. Cook for a minute. Then add around 2 1/2 – 3 cups water and bring to boil. Once the gravy boils, add the corn flour paste to it and stir immediately. At this stage you will find the gravy has begun to thicken. Put off the flame and transfer the vegetables with the sauce into a serving bowl. Serve hot with Garlic Noodles or Fried Rice.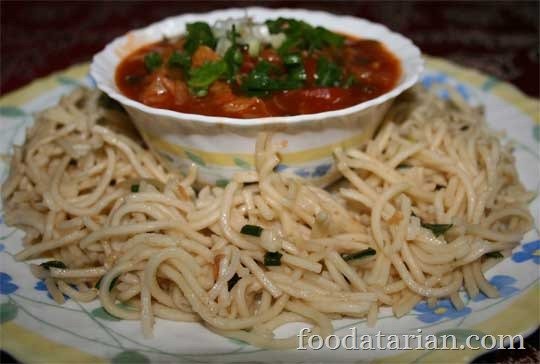 (Visited 54 times, 1 visits today)