Stuffed and Fried Eggs
Ingredients:
4 eggs, boiled,
1/2 cup roasted desicated coconut,
1 onion, finely chopped or grated,
1/4 tsp turmeric powder,
1/2 tsp red chilli powder,
1/2 tsp garam masala,
Salt to taste,
Oil.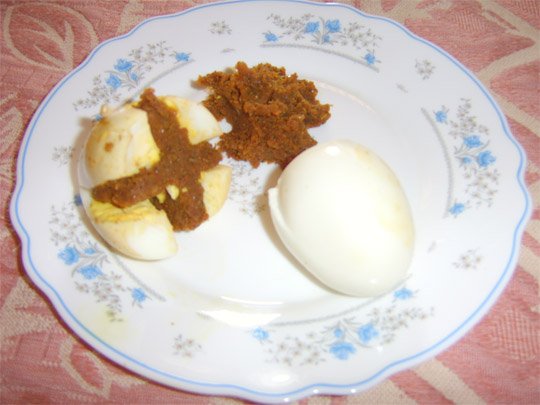 Method:
In a pan, heat some oil and add onion. Saute till it changes colour on a medium-low flame. Add turmeric powder, red chilli powder and garam masala and mix well. Meanwhile grind the coconut with some water to form a smooth paste. Now add this paste to the pan. Mix well and fry for around 2-3 minutes.
Remove from heat and let it cool at room temperature.
Make two slits in the eggs, crosswise, from top as deep as 3/4th of the height of the egg. Later stuff the prepared masala into the eggs carefully. Donot be hard, as the eggs would break.
In a pan, heat some oil and fry these eggs from all sides at a golden colour.
(Visited 8 times, 1 visits today)