Stuffed Tomatoes
Ingredients:
4 medium size ripe but firm tomatoes,
100-125gms or approx 3/4 cup crumbled paneer (cottage cheese),
1 small onion,
1/2 cup coriander leaves,
1 green chilli,
1 tbsp ginger-garlic paste,
1 tbsp cream (optional),
1 tsp chat masala,
Salt and sugar to taste,
Olive oil for tempering and frying.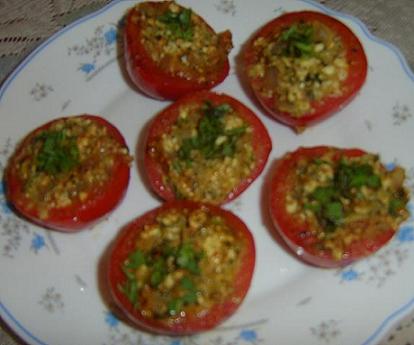 Method:
Cut the tomatoes into two halves each horizontally. Core all the pulp from them and strain the pulp, set it aside. Apply a pinch of salt and sugar to each tomato halve, rub inside evenly and place them upside down on a kitchen paper towel. This would reduce the sour taste of the tomatoes, if any. Dice half the onion. Put the other half, chilli, coriander (reserve few leaves to garnish) into a grinder and grind to a paste.
Heat little oil in a pan, add the diced onion and saute till it is soft. Then add the ground coriander paste and cook for few minutes. Then add the ginger-garlic paste, strained tomato pulp, mix well and cover and cook for few minutes. Then add paneer, chat masala and very little salt since chat masala also contains salt. Mix together, cover and cook for a minute and then remove from flame. Spread in a plate and let it cool for 2 minutes. Then add cream if you want, mix well and stuff into the tomatoes.
In the same pan add more olive oil is required. When it is hot place the stuffed tomatoes into it. Cover and cook them on low-medium flame for 3 minutes. Then uncover and turn the tomatoes and again cover and cook. Continue this process till the tomatoes are almost cooked from all sides but are still firm and red in color. You should not over cook them since they would droop and their color should not change. When done garnish with chopped coriander leaves and serve hot with Indian bread or parathas.
TIP:
Use fresh paneer in this recipe, it tastes much better than the frozen paneer.
(Visited 4 times, 1 visits today)