Sweet and Spicy Karela Fry (Bitter Gourd Stir Fry)
I am sure karela is one of the most 'not' preferred vegetable by you or your kids. It is a rich source of in essential vitamins and minerals such as vitamin A, B1, B2, C and Iron. Its regular consumption could prevent hypertension, eye complication, blood disorders such as boils, scabies, itching, ring worm and fungal diseases. It also increases the body's resistance power.
This is a Maharashtrian recipe, which has a sweet, bitter, sour and little spicy taste. So your kids may like it. It is a quick recipe and delicious too (yes believe me).
Ingredients:
3 karelas (bitter gourds),
1 onion; finely chopped,
Lemon size tamarind ball; soaked into warm water for 10 minutes and pulp separated,
2-3 tbsp grated jaggery (gur),
1/2 tsp jeera (cumin seeds),
1/4 tsp turmeric powder,
1/2 tsp red chilli powder,
Salt to taste,
Oil for frying.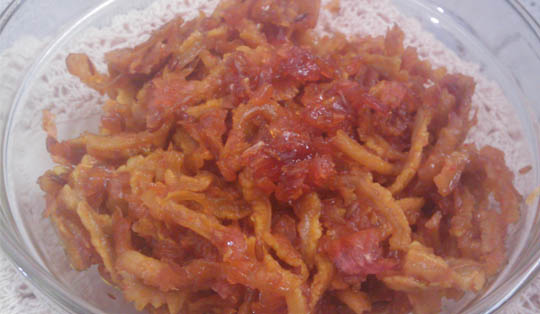 Method:
Scrape the karelas, slit them lengthwise and deseed them. Now cut them into thin rings, apply some salt and set them aside for 10 minutes. Later using your hand, knead them to soften and remove excess salt. If you do not like the bitter taste of karela, then you can wash it at this point. But that will wash of many nutrients, Hence just remove excess salt and juices and set it aside.
Heat little oil in a kadhai (wok) and add the karela slices to it. Fry on low-medium flame, stirring occasionally for few minutes. Cover and cook for 2 minutes. Then transfer the karela from the kadhai to a plate. In the same kadhai add some more oil, let it heat up. When hot add jeera, let it splutter and then add the onion. Fry for few minutes till it is soft. Now add turmeric and red chilli powder, saute for 2 minutes. Then add the tamarind pulp and jaggery, mix well and cover and cook for 2 minutes. Then add the karela, mix, again cover and cook till karela is tender. Lastly sprinkle some salt, stir and serve hot with chapatis or parathas.
(Visited 7 times, 1 visits today)