Tandoori Chicken
This is a famous Indian chicken preparation, originated in the Punjab region. It is marinated with yogurt, ginger-garlic paste, tandoori masala (spice) and cooked in a clay oven called 'tandoor'. The recipe is unique because of its red color, smoky flavor and ofcourse the spicy taste.
These days this recipe could be prepared at home on grills. But for real tasty Tandoori chicken you must visit a road-side 'dhaba' (restaurant) in North-India, though it is available throughout India and now all around the world.
Ingredients:
1 medium size chicken (800-900 gms); cut into serving size pieces,
1/2 thick hung yogurt,
2 tbsp thick cream,
2 tbsp ginger-garlic paste,
2 tbsp lemon juice,
1/4 tsp turmeric powder,
1/2 tsp red chilli powder,
1 tsp ground cumin,
1-2 tsp tandoori masala,
1/2 tsp rock salt,
Few drops of red food color,
Chat masala to taste,
Salt to taste,
Vegetable oil for basting,
Sliced onion, cucumber, tomatoes, shredded cabbage and lemon slices to garnish.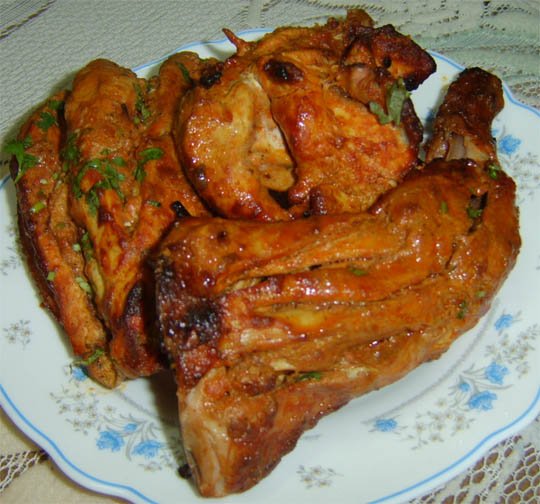 Method:
Make some incisions or prick the chicken pieces with fork to allow the marinade to penetrate inside the chicken. Rub them with lemon juice and salt and set them aside for 20 minutes. In a bowl, mix together all other ingredients and then marinate the chicken pieces in this marinade. Refrigerate the marinated chicken for 4-5 hours or overnight for best results.
To grill in the oven, preheat it to 450 degrees F (225 degrees C) and place each chicken pieces (remove extra marinade if any and reserve for basting) on the grill. Grill the chicken at same temperature for 20-25 minutes or until chicken is tender and juicy. Baste with marinade and oil at equal intervals. Serve hot with sliced onion, cucumber, tomatoes, shredded cabbage and mint, coriander and mayonnaise dip or chutney as an appetizer. Or serve with naan, paratha, butter roti as a meal.
(Visited 21 times, 1 visits today)