Thai Pineapple Fried Rice
Last month I was in Seattle with my husband. We met up with my school friends and they took us to this awesome Thai restaurant called 'King and I' located in Bellevue. Amongst the different dishes we ordered, I peculiarly liked the Yellow Curry, Prawns Rolls, Chicken Satay and their Peanut Sauce was lipsmacking. We ate 3 bowls of peanut sauce, can you imagine! Anyway the best dish that I had was Pineapple Fried Rice. It is made up of Pineapple, Egg, Onion, Broccoli, Tomatoes, Green Onion with our Choice of Meat. But since we had vegetarians in our group, we ordered the rice with Tofu. It was delicious.
Here I am sharing a recipe of Pineapple Fried Rice which I learnt after I had it in 'King and I'. You'll like it! Though this is recipe has tofu in it, you can replace it with sausages or shrimps.
Ingredients:
2 cups of cooked rice; cold,
1/2 fresh pineapple or a tin of pineapple slices with juice,
1 cup tofu slices or sausages or shrimps,
Few florets of Broccoli; blanched,
3 green onions; thinly sliced,
1/2 cup mushrooms; blanched,
1 large tomato; deseeded, cut into half and then sliced,
2 tbsp soy sauce,
1 tbsp fish sauce,
2 red chillies; finely chopped,
2 eggs; beaten,
Salt and Brown sugar to taste,
1/4 cup of Peanut or sesame oil,
Some cilantro to garnish.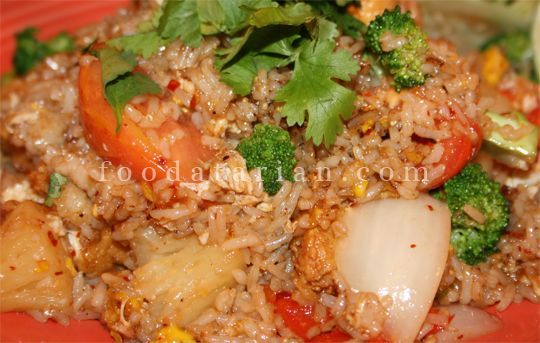 Method:
Heat oil in a wok on high flame. Add garlic, onion and saute on medium flame for a minute. Then add eggs, tofu/sausage/shrimps and cook for few minutes. Then add broccoli, carrots, mushrooms, rice, fish sauce, soy sauce and cook for few more minutes. Stir in chopped pineapple, sliced red chillies and tomaotes. Cook for a minute. Garnish with cilantro and serve hot.
(Visited 15 times, 1 visits today)