Tomato Pulao
Ingredients:
250gms ripe tomatoes,
2 cups Basmati rice (long grain rice),
1 onion;
2 green / red chillies,
1 tsp ginger-garlic paste,
1/2 tsp red chilli powder,
A handful of cashew nuts,
Salt to taste,
Water,
Ghee or oil for frying,
Chopped coriander leaves to garnish.
Whole Garam Masala –
2-3 bay leaves (tejpatta),
2 cardamom (badi elaichi); break it using the rolling pin,
2 1″ sticks cinnamon (dalchini),
5 peppercorns (kalimirch),
3-4 cloves (laung).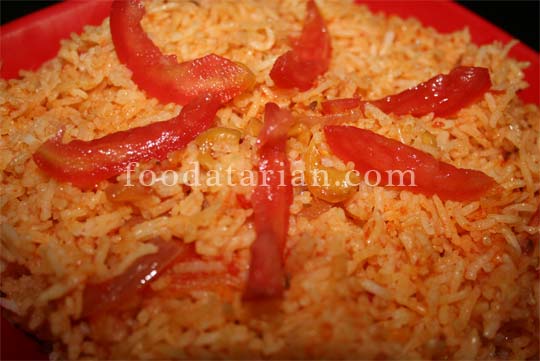 Method:
Wash and soak rice in water. Boil water and dip the tomatoes in it for 3 minutes and remove. Peel and blend to puree. Grind together onion, chillies and ginger-garlic paste. Heat a tbsp of ghee or oil and fry cashew nuts till they turn golden, drain and remove. Then add some more ghee to the same pan, add the whole garam masala ingredients one by one, then add the onion paste and fry for 5-7 minutes on a low-medium flame. Then add the tomato puree and let it cook for 5 minutes. When it starts leaving oil, add red chilli powder and rice. Mix well, and add exactly 3 1/2 cups water (or depending upon the kind of rice). Add salt to taste, mix and cover with lid to let it cook. When rice is done add the fried cashew nuts and garnish with chopped coriander leaves.
(Visited 4 times, 1 visits today)