Top 5 Chicken Recipes
This pick is specially for you to give you the five chicken recipes you would love to prepare and eat, as the top chicken recipes for this week. They are:  
– Chicken Kebab
– Buttermilk Fried Chicken
– Spicy Chicken Bits
– Roasted Tangy Chicken
– Crackling Chicken
Chicken Kebab
A simple recipe for chicken kebab which you always wanted to prepare at home.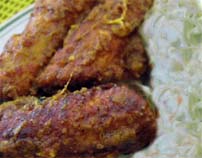 Ingredients:
250gms Chicken Kheema(Minced Chicken),
2 tsp red chilli paste,
2 tbsp cornflour, (or as per need for binding),
1 tsp jeera powder(cumin powder),
1 tsp black pepper powder(or as per taste),
2 tsp lemon juice,
2 tsp ginger-garlic paste,
Salt to taste,
Oil for frying.
Method:
Mix all the ingredients except oil and let the chicken marinate for atleast 2 hours. Heat oil in a kadhai or wok for deep frying or in a frying pan to shallow fry. Make elongated balls out from the mixture and fry them at a reddish brown colour.
Buttermilk Fried Chicken
Delicious buttermilk and herb flavored spicy chicken.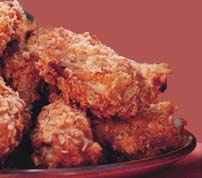 Ingredients:
4 chicken drumsticks or approx 700gms chicken pieces of your choice,
1 cup buttermilk or yogurt mixed with water,
1 onion; minced,
2 tbsp mixed herbs,
1/2 tsp paprika or red chilli powder,
Salt and pepper to taste,
Oil for deep frying.
For coating-
1 cup flour,
Cornflakes or cornmeal for crispiness,
1/4 tsp garlic salt,
Salt and pepper to taste,
Juice of 1 lemon.
Method:
Combine buttermilk, onion, herbs, paprika, salt and pepper and then soak the chicken pieces into it for 6-8 hours, the more the better. At the time of frying, mix together the ingredients for coating and then dip each chicken piece into it and coat well. Heat oil for deep frying in a heavy bottom wok or skillet. Then drop the chicken pieces into oil and fry them on each side for 10-15 minutes on medium flame till they become crisp and brown. Serve hot with blanched vegetables and chilli sauce.
Spicy Chicken Bits
A yummy snack loved by all.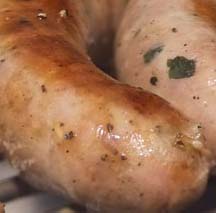 Ingredients:
5 Chicken Sausages,
2 tsp ginger-garlic paste,
1/2 tsp green chilli-coriander paste,
2 tsp red chilli powder,
1/2 tsp garam masala,
1 tsp lemon juice,
1/2 tsp chat masala,
4-5 tbsp Oil.
Method:
Cut the chicken sausages into thick slices or bits. Add ginger-garlic paste, red chilli powder, garam masala, chat masala and lemon juice to these chicken bits and let them marinate for some time. Heat a kadhai (wok), add oil and let it heat. Then add a pinch of asafoetida and then add the marinated chicken. Mix and cook stirring occasionally for 3-4 minutes. Decorate the serving dish with lettuce leaves, spring onions and tomato slices and transfer the chicken bits to the dish and serve as a starter or snack.
Roasted Tangy Chicken
A chicken snack or starter with a tangy tomato flavor. 
Ingredients:
2 Chicken legs, slit so that the chicken marinates well,
2 tbsp ginger-garlic-coriander paste,
1 tsp turmeric powder,
1-2 tsp red chilli powder,
1 tsp garam masala or chicken masala,
1/2 cup tomato ketchup,
Salt,
Oil for shallow frying.
Method:
Marinade-
In a bowl mix ginger-garlic and coriander paste, red chilli powder, turmeric powder, tomato ketchup, salt and then put chicken legs into this, using hands marinate the chicken well by inserting the marinade into the slits of the chicken. You can marinate the chicken for at least 2 hours for better results, keep this overnight in the refrigerator for best results, else use it immediately if you do not have marination time, the recipe is just as good.
Heat oil for shallow frying in the pan, using a spoon spread well and then place the chicken legs into the pan along with its marinade. Cover and cook for 5 minutes. Uncover and turn the chicken pieces, again cover and cook for 10 minutes. Keep flipping and cook till chicken is tender. Sprinkle some chat masala and serve hot.
TIP:
If you want to prepare this recipe for a party or friends/guests coming over the next day, marinate the chicken the previous night and relax. Next day you just have to fry the chicken. And the overnight marination gives a delicious taste to your dish.
Crackling Chicken
I bet the chicken will crackle 🙂
Ingredients:
1 kg boneless, skinless chicken pieces,
1 egg,
3/4 cup bottled fat-free creamy Italian salad dressing,
1 tsp dried Italian seasoning,
2 cups crushed reduced-fat butter crackers or Italian bread crumbs,
1/3 cup finely chopped pecans,
1/4 cup grated Parmesan cheese,
1/2 tsp garlic salt,
1 tsp chopped parsley.
Method:
In a bowl beat the egg, add salad dressing, Italian seasoning and mix well. Add the chicken tenders to this and mix well to coat the chicken with the dressing. Marinate chicken for 1 to 2 hours, preferably in a refrigerator. Preheat oven to 350 degrees. Spray a large cookie sheet with some olive oil. In a plate, mix together crushed crackers or bread crumbs, pecans, Parmesan cheese, Italian seasoning, garlic salt, and parsley flakes. Pick the chicken pieces and roll them in cracker crumb mixture. Place chicken on prepared cookie sheet. Bake for 25 to 30 minutes or until golden brown. Serve with your favorite dipping sauce.
(Visited 6 times, 1 visits today)