Ukadiche Modak (Rice Modaks – A Maharashtrian Delicacy for Ganesh Chaturthi)
Its Ganesh Chaturthi tommorrow! The occasion to welcome our favorite lord Ganesh, god of  wisdom, prosperity and good fortune. While this festival is celebrated all over India, is no where as elaborate as in Maharashtra. Lord Ganesh is said to have a sweet tooth and hence plenty of sweets are prepared today to welcome him. But he is most fond of modaks. There are many ways of preparing modaks. Here is the recipe for Rice modaks which are steamed and not fried.
Ingredients:
For the ukad (dough) –
1 cup rice flour,
A little less than 1 cup; water,
A pinch of salt,
1/2 tsp ghee.
For the Coconut Stuffing –
1/2 coconut; grated,
3/4 cup gul (jaggery),
1 tsp lightly roasted khus khus (poppy seeds),
A tsp elaichi powder (green cardamom).
Method:
To prepare the stuffing, combine coconut and jaggery in a pan and cook stirring until jaggery melts.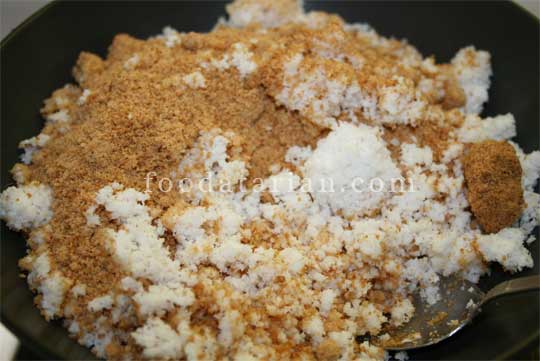 Then add khus khus (poppy seeds) and elaichi powder and mix well.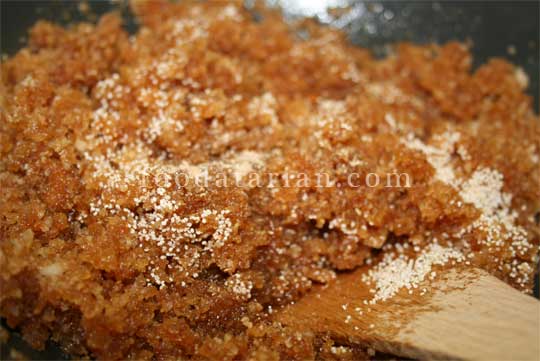 When the mixture is even and separates from the pan, remove from flame and set aside to cool down.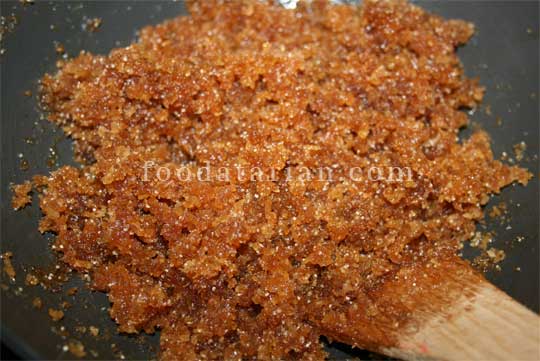 To prepare the covering, add water to a thick bottom pan and bring to boil. Add some salt and ghee to this water. Once water boils, reduce the flame. Add flour and mix immediately, so that lumps are not formed. Keep mixing thoroughly. When even, cover with lid and cook for 1-2 minutes. Remove from flame and transfer this dough into a plate. Wet your palms with water and knead this dough while hot.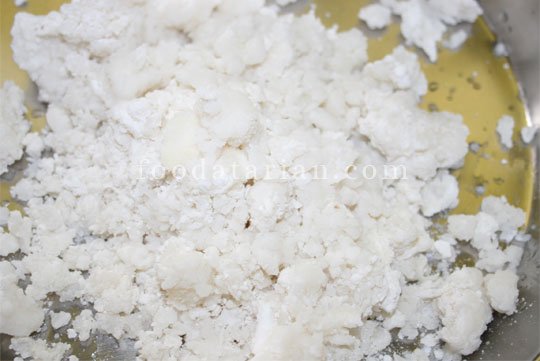 Knead well using some water.
Make small lemon size balls and divide the stuffing accordingly. You can choose to use a mold to prepare modaks or prepare it with your hands.
To prepare modaks, wet your palms and fingers with oil. Then place a dough ball over your left hand fingers, and using your right hand prepare a cup shape that is not too thick or too thin. Place the stuffing into it and place the cup on your left palm. Then hold a small portion of dough with your pointer finger inside the cup and thumb and middle fingers outside for support, slowly and lightly hold and pull dough with your pointer finger and then press it (pinch) with thumb and middle finger. Continue doing this to the entire cup at a regular distance.
Then we have to seal this modak. Hold it again on your left palm and using your pointer and middle finger, starting from the bottom, twist lightly in anti-clockwise direction. While doing this pick up the modak with these fingers and again place onto your left palm. This movement with flatten the pinches that you created earlier, but take care that you apply minimum pressure else modak will turn into laddoo 🙂
Continue doing this until you generate a tip and seal the modak. Remove excess dough from the tip and keep these modaks in a wet cloth until ready to cook. Prepare few modaks and cook them immediately.
To cook modaks, use a steamer. Place modaks into the steamer in batches and steam for around 10 minutes.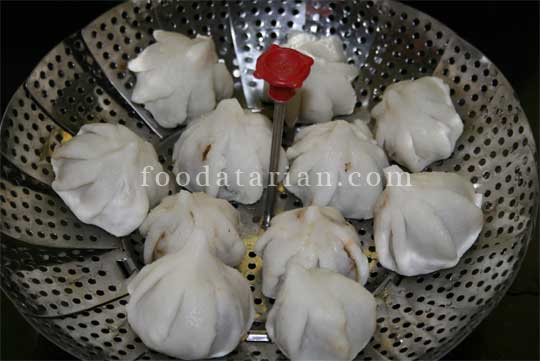 If you do not have a steamer, you can use a strainer that is in the shape of a container or a separator will small holes and fits well into another large pot with lid. Place a damp cloth into it, place modaks and place it into the pot of hot water. Steam for 10 minutes and modaks will be ready.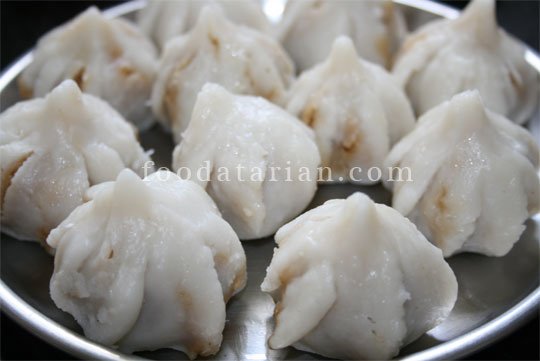 NOTE:
This is a difficult and creative process. So only practice will make perfect modaks.
TIP:
Prepare modaks in batches and cook them immediately else they will cracken.
(Visited 28 times, 1 visits today)