Uttappam (South-Indian Breakfast)
Uttappams or Uttappas are thicker than dosas and topped with different toppings like onion, coriander leaves, fresh coconut and many more. These Uttappams are very are soft and delicious.
Ingredients: (Prepares 16-17 medium sized uttapams)
1 cup rice,
1/2 cup dhuli urad dal (split black gram),
1/4 cup poha (beaten rice),
Salt to taste,
Water,
Oil.
To garnish –
Chopped onion, coriander leaves, green chillies and freshly grated coconut as per taste.
Method:
Soak rice and urad dal in water (enough to soak) for 6-7 hours. Later wash the poha in some water to soften them. Then grind rice, dal and washed poha with water only as required to prepare a smooth batter with dropping consistency (similar to dosa batter). Allow this batter to ferment for 7-8 hours. Then add some salt to the batter and stir well.
Heat a griddle on low-medium flame and smear some oil. Then scoop 1-2 spoonfuls of batter and spread it instantly in a circular motion to prepare a round uttappam. If you are not comfortable preparing medium size uttapas then prepare small uttappams with a spoonful of mixture. I prepare small sized uttappams regularly, they look very cute.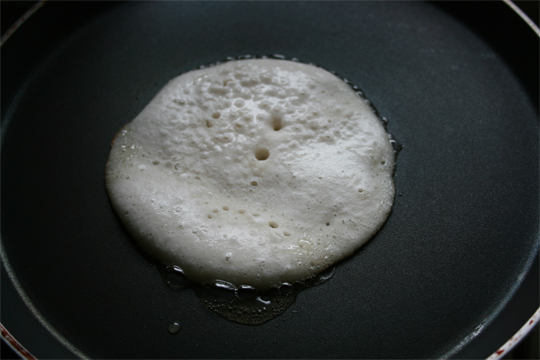 Immediately top with garnishing ingredients, spread some oil from the sides of the uttappam.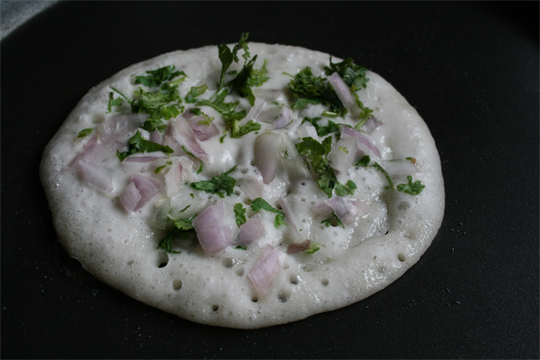 Cover with a lid and cook for 2-3 minutes until it browns from bottom. Then spread some oil on top and flip over. Cook from this side for 2 minutes and serve with coconut chutney or best with green coconut and garlic chutney.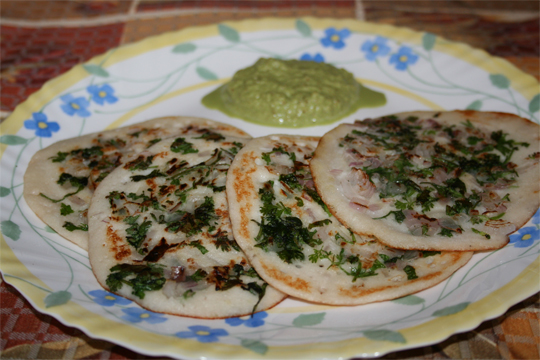 (Visited 12 times, 1 visits today)