Vangi Bhath (Brinjal/Aubergine/Eggplant Rice)
An Indian rice recipe from the part of Maharashtra. 'Vangi' means brinjal, eggplant or aubergine. The rice has a subtle flavor of coconut and coriander with some mild spices.
Ingredients:
4 medium size vangi (brinjals), halved and then sliced,
1 cup uncooked rice, washed and soaked for 10-15 minutes,
1 onion; halved and sliced,
1 green chilli; finely chopped,
1 tsp ginger-garlic paste,
1 small tomato; finely chopped or pureed,
2 bay leaves,
2 elaichi (green cardamom),
4 laung (cloves),
1/4 tsp turmeric powder,
1/2 tsp red chilli powder,
1/4 tsp ground black pepper,
1 tsp ground dhania (coriander powder),
1/2 tsp ground jeera (cumin powder),
Salt to taste,
Oil for frying and tempering,
1-2 tsp of lemon juice,
Freshly grated coconut and chopped coriander leaves to garnish.
Masala (Spice) paste –
1/3 cup freshly grated coconut,
1″ ginger,
4-5 cloves of garlic and few coriander leaves.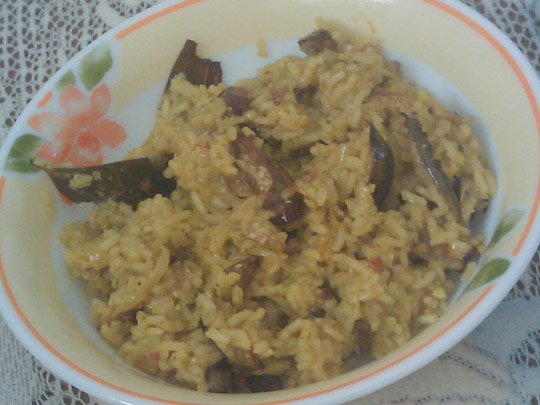 Method:
Heat oil for frying in a kadhai (wok) and fry the brinjal slices in batches on medium flame, till golden. Drain on paper towels. Meanwhile on another flame, heat some oil in a deep pan. To it add bay leaves, cloves, cardamom and sliced onion and saute on low-medium flame till onion turns soft. Then add ginger-garlic paste, green chillies and roast for few minutes. Then add tomatoes, cover and cook till they soften. Uncover and add all the spices, stir and cook for 2 minutes. Then add the ground paste and further cook for 2 minutes. Then add washed rice, mix, add 2 cups of water, salt, stir and cover with lid. Let the rice cook on low-medium flame for around 15 minutes. Stir occasionally, add more water if required (depending upon the rice). Add the fried brinjal, cover and cook for 5-7 minutes. Transfer to serving bowl, garnish with coconut and coriander leaves. Serve hot with yogurt, raita, papad (popadum) and pickle.
(Visited 5 times, 1 visits today)