Veg Cheese Croquettes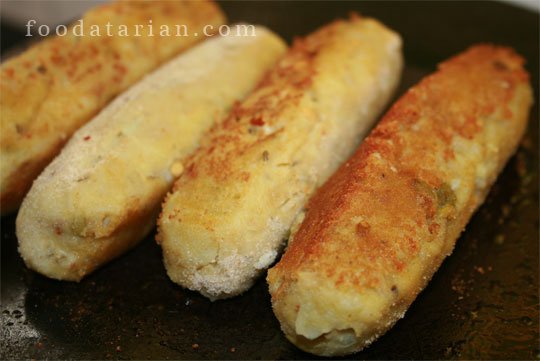 Ingredients:
50gms French beans; finely chopped,
2 small carrots; grated,
1 small green pepper; finely chopped,
1 small red pepper; finely chopped,
3 tbsp chopped onion,
1 whole pickled Jalapeno Pepper; finely chopped, (adjust as per taste)
1-2 potatoes; boiled, peeled and grated,
100 gms Mozzarella cheese; cut into medium thin sticks,
Fresh bread crumbs, (if fresh bread crumbs are unavailable, use dry ones)
2-3 tbsp white sauce,
Salt to taste,
Oil for deep frying.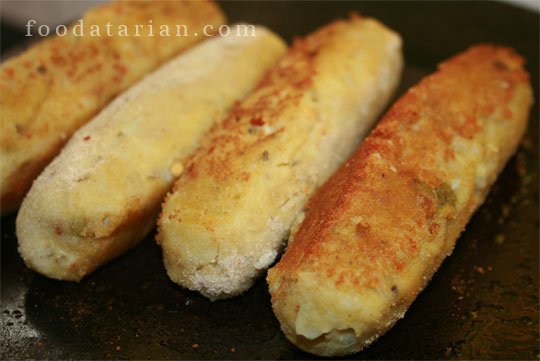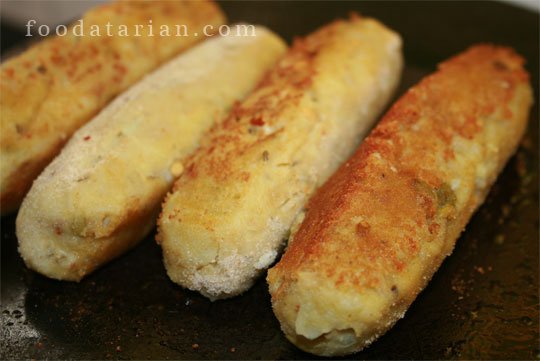 Method:
In a pan, heat little oil and add onion and saute for few minutes. Then add beans, carrots, peppers, salt and cook for few minutes. Remove from flame and transfer to a mixing bowl. Add Jalapenos, grated potatoes, white sauce, 2-3 tbsp bread crumbs and mix in a dough. Spread bread crumbs in a shallow dish. Make small balls of the dough, divide the dough into exact number of cheese sticks. Flatten each ball of dough using your fingers and your palm, place a cheese stick on it and cover it entirely with the dough. Shape into elongated croquette and roll into the bread crumbs. Prepare all the croquettes similarly.
Heat oil for deep frying in a kadhai (wok) and deep fry these croquettes on medium flame until golden brown. Drain on clean kitchen towels and serve with a dip/sauce.
TIP:
You can store these croquettes in the freezer for future use. Either fry and store or just prepare them and store. At the time of use, remove, fry and serve.
(Visited 4 times, 1 visits today)