Yam Chips
'Yam Chips' – is it something you haven't heard before. My mother prepares this and I relish it. I never liked a gravy or curry preparation of yam, so my mother made this so that I eat yam. And since then I love this recipe and prepare it regularly. You can also call it Yam/Suran Bhajiya and can serve it as snacks or a side dish with your meal.
Ingredients:

200gms yam/suran; peeled, washed and sliced into medium thin slices as shown in the picture below,
1-1 1/2 cups of gramflour (besan),
1/2 tsp turmeric powder,
1 tsp red chilli powder,
2 tbsp tamarind pulp,
Salt to taste,
Oil for frying,
Water for batter.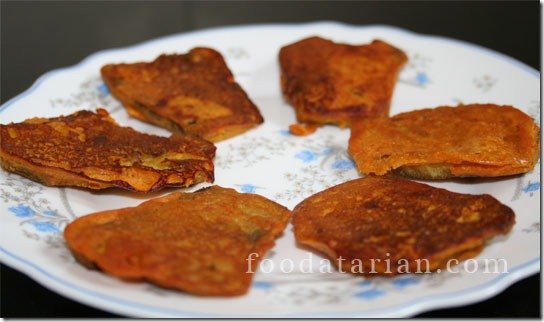 Method:
Boil the sliced yam with very little water, until almost cooked. Do not overcook, else they will melt down. If cooking in a pressure cooker, cook only upto 1 whistle and remove from flame.
Prepare a batter of gramflour, turmeric and red chilli powder, salt, tamarind pulp and water. The batter should be of dipping consistency (not very thin).
Heat oil in a pan/griddle to shallow fry the chips. You can also choose to deep fry them.
Dip each chip into the batter and place it into hot oil. Fry on medium flame until reddish brown in color and crisp on both sides. Serve as an appetizer/snack or a side dish.
TIP:
If any water is left after boiling the yam, add that to the batter first and then add more water if required to adjust the consistency.
(Visited 10 times, 1 visits today)